Tropical environs, soft white sand, long beaches, soothing shores and relaxing sound of the waves – what comes to your mind when we draw a picture as such? Fiji or Maldives?
Well, both the destinations are equal shareholders in this imagery and they both exemplify a soothing atmosphere where you can go for a relaxing vacation with friends and family. While both of these places are as good as the other one, there is still an ongoing debate on which is better in the discussion of Fiji Vs Maldives! So, scroll down if you finally want to put your dilemmas in rest!
Natural Landscapes In Fiji Vs Maldives
Fiji is an alluring country in Oceania which comprises 300 islands. As you start painting a picture of Fiji in your head, you will, needless to say, include vast beautiful landscapes, calming beaches lined up with palm trees, and alluring coral reefs with lagoons. Fiji is known for its two best islands – Viti Levu and Vanua Levu. Both these islands attract many tourists every year with their charm and beauty and their rich colonial history. Fiji is an ideal destination if you are looking for beautiful surroundings and relaxing vacation.
The Maldives is a captivating country in South Asia located in the Arabian Sea. It is known to be a romantic getaway for many couples for many years as you can feel the love in the air of the place! Clear blue waters and clearer skies embrace the landscapes of Maldives and offer visitors with picturesque surroundings and vistas. The Maldives is an ideal destination if you are planning a relaxing and romantic honeymoon with the love of your life!
Must Read: Fiji Travel Tips That Will Ensure That You Have A Great, Safe And Secure Trip
Ideal Duration For Fiji Vs Maldives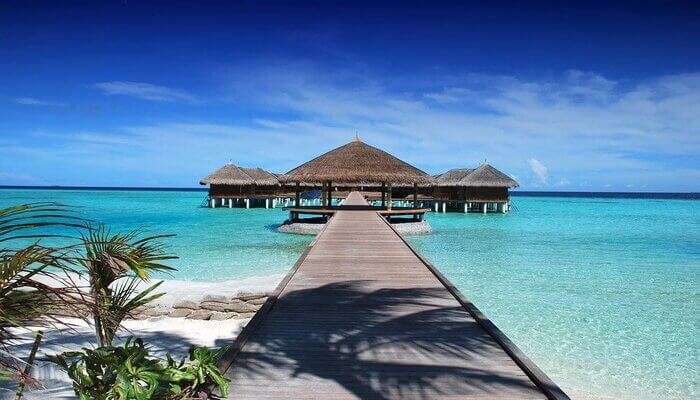 Image Source
Both of these destinations are known for their beautiful islands and beaches and each place has many activities and fun things to offer. When talking about the ideal trip duration for the Fiji islands, we can say that anywhere between 4-5 days is enough to suffice to your vacation plans and if we are talking about the Maldives, then planning a trip of 7-10 days should be ideal to fully explore the destination.
Best Time To Visit Fiji Vs Maldives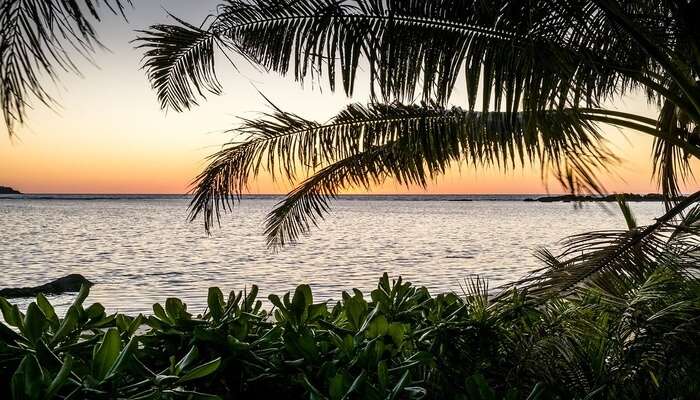 Image Source
The weather of the Fiji islands can broadly be divided into two categories: humid and hot during Nov to April and mild and dry throughout May to Oct. You can choose the weather that you prefer the most but generally mid-October to mid-November is the ideal time for visiting Fiji islands as the cost of accommodation and amenities is pretty reasonable during this time and there is less crowd and weather conditions are settled, dry and warm.
As for the Maldives, the best time to visit is between November to April. The weather throughout these months is pleasant and the cost of your trip will also be reduced since the accommodations are cheaper and the flight tickets are also cheap because less number of tourists prefer visiting during this time.
Suggested Read: 20 Things To Do In Fiji In 2022 That Let You Absorb The Essence Of The Island
Average Budget For Fiji Vs Maldives
It is a common misconception that traveling to these two popular destinations costs a lot. But, in reality, it actually does not cost you that much, as many resorts and cruise ships have started to offer budget-friendly travel plans in each of these destinations. Here is an average budget for a vacation in both these destinations.
Average Budget For Fiji Trip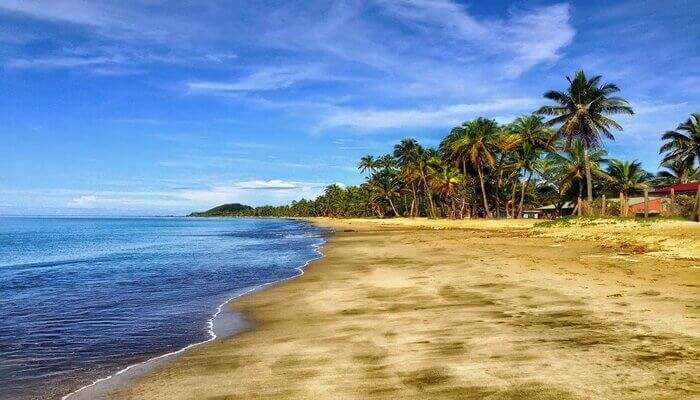 Image Source
On average you will have to spend around INR 10,000 per person in a single day in Fiji if you are traveling on a budget. If you are planning a luxury style trip then it can cost you around INR 23,00 a day for a person. This cost is inclusive of transportation, accommodation, and recreational activities.
Suggested Read: Island Hopping In Maldives: A Tryst With The Turquoise Waters In 2022
Average Budget For Maldives Trip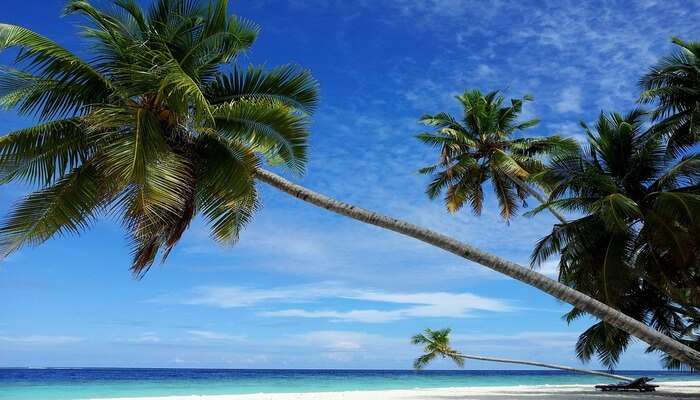 Image Source
On average you will have to spend at least INR 28,000 per day for a single person on your trip to the Maldives which is inclusive of transportation, accommodation, and recreational activities.
Places To Visit In Fiji Vs Maldives
When it comes to places to visit, both Fiji and Maldives islands have a plethora of spots to offer. Here we are going to discuss 3 popular places that you can visit on your trip to each of these destinations.
Popular Attractions In Fiji
Here are the three most amazing places that the Fiji Islands have to offer to everyone.
1. Colo-I-Suva Forest Park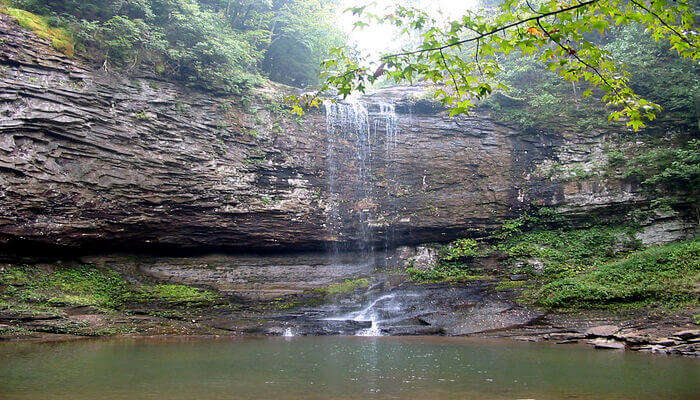 Image Source
Colo-I-Suva is a beautiful forest park that features mesmerizing greenery overflowing with beautiful tropical plants and wildlife. It is considered to be one of the best places to visit in the Fiji Islands. Its 6.5 Km long strolling trails offer several beautiful natural pools along with exquisite vistas. Since it is located at an elevation of 120 to 180M, it remains quiet and cool throughout the year. If you are someone who wishes to enjoy some peaceful time on your Fiji trip then this is the place to be in.
Suggested Read: 50 Pristine Places To Visit In Maldives For An Amazing Vacay In 2022!
2. Suva Municipal Market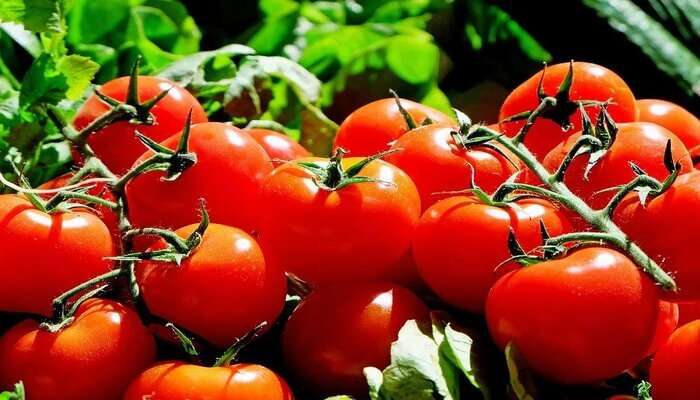 Image Source
This is one of the most extraordinary destinations that you will keep you captivated in its beauty. Here you can spend hours capturing pictures of beautiful surroundings. All the natural grown products such as cabbages, chilies, and tomatoes are available at a reasonable price so you would not need to bargain.
3. Sri Siva Subramaniya Swami Temple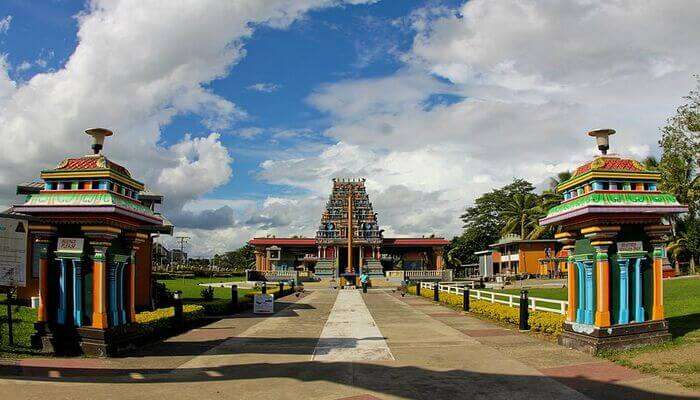 Image Source
It is one of the most ancient Hindu temples of the Fiji Islands. It is one of the few other spots where you can witness the beauty of traditional Dravidian engineering. The beautifully crafted carvings of gods came to this place from India, and the specialists who decorated this place with its vivid coat and breathtaking roof frescos were also from India. All of these things make this place a must-visit on a trip to Fiji Islands.
Suggested Read: 15 Exciting Water Sports In Maldives For Your Adrenaline Fix In 2022
Popular Attractions In Maldives
Here are the three best places to visit in the Maldives that will keep you enthralled.
1. Malé Atoll
Image Source
Male Atoll is one of the biggest and most popular destinations in the place that you can visit in the Maldives. It is located at the southern edge of the Kaafu Atoll and is considered top tourism places of Maldives. Initially, it was called a Mahal due to its relation with Royal Dynasties but now it is known as the Kings Island. This place has a tropical monsoon climate so there is a little bit of rain throughout every month of the year.
2. Sun Island

Located at the South Ari Atoll, the Nalaguraidhoo Island also known as Sun Island is a must-visit destination on your Maldives trip. This place is filled with beautiful tropical flowers, serene beaches, and lavish greenery that attract thousands of tourists every year. With its calm and deep blue waters, beautiful resorts, and sparkling beaches this island offers extreme joy and fun to all its guests. So if you are visiting the Maldives islands do not forget to make a stop at Sun Island.
3. Banana Reef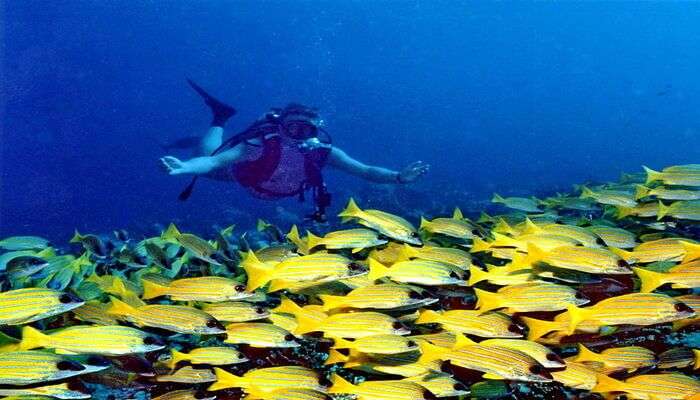 Image Source
Located north to the Male Atoll, the Banana Reef is known to be one of the most divine sites in the world. This Reef is shaped like a banana that is why it is named Banana reef. It has fantastic corals, overhangs, cliffs, and caves that will keep you engaged for days.
Suggested Read: Fiji Travel Guide: Everything You Need To Know About And Should Be Doing In The Island Nation
Shopping In Fiji Vs Maldives
Fiji is known amongst tourists for its amazing shopping destinations and the many awesome things that you can buy from here. Some of the best souvenirs that you can bring back from your trip include Sulu, which is traditional Fijian attire, carved masks, Lali drums, black pearls, tapa cloth, woven mat or basket, and cannibal fork. Some of the amazing places where you can shop in Fiji are the Municipal Handicraft Centre, Maui Bay Shopping Centre, Baravi Handicrafts, Tappoo, and many more!
Now coming to the Maldives, even this place is an amazing shopping destination for all those visiting. You can shop for umpteen souvenirs such as unique statues, locally made baskets, lampshades, coir ropes, thundu kunaa ( traditional mats), Maldivian sarongs, lacquer products and much more! You can shop at amazing places such as Male Local Market, STO Trade Centre, Island Bazaar, Centro Mall, etc.
Looks like both these destinations have a lot to offer when it comes to shopping and well, can shopaholics really choose just one place?
Suggested Read: Witness The Wildlife In Fiji At A Stone's Throw Distance When Traveling To This Island Nation
What's Common In Fiji Vs Maldives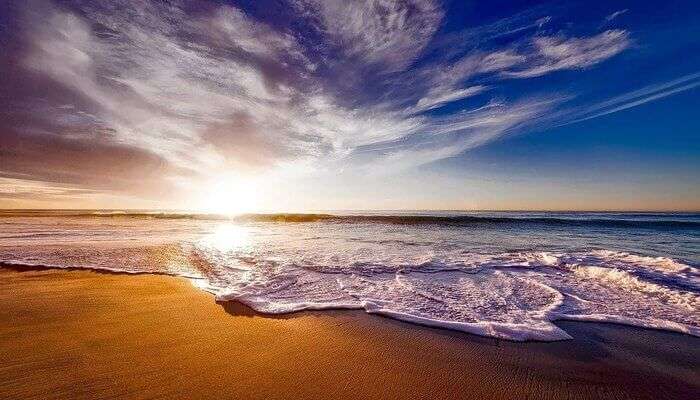 Image Source
Both these amazing destinations have many different water sports that you can do such as snorkeling, scuba diving, swimming, paragliding and much more! Fiji and the Maldives both offer visual treats and amazing mouth-watering sea-food that you cannot find anywhere else. Most of the sea-food served in these places is produced locally that is why you get a different flavor and feel in each dish you savor.
Besides this you also get a lot of amazing cruises, there are many boats and cruises available in both these destinations; these cruises and boats make it possible for you to enjoy a ride on a speedboat and experience a delicious meal on the local ferry. From these cruises, you can get too many different seaside resorts that offer several great amenities that can make your trip a lot more enjoyable. From organic spas to Jacuzzi retreats you get to enjoy everything in Maldives and Fiji islands.
Further Read: Shopping In Fiji: 10 Perfect Places For Unlimited Shopping
Well, our discussion on Fiji Vs Maldives is never ending – maybe because they are both equally amazing vacation destinations and have a unique charm that is owned only by them! While Fiji is more ideal for a family vacation, and the Maldives for a romantic getaway; both these places have an equal say on the table when it comes to serene beaches and a relaxing environment! Even if you can't choose one place to plan your trip between Fiji and Maldives, that is fine, because you know what they say, the more the better!
Disclaimer: TravelTriangle claims no credit for images featured on our blog site unless otherwise noted. All visual content is copyrighted to its respectful owners. We try to link back to original sources whenever possible. If you own the rights to any of the images, and do not wish them to appear on TravelTriangle, please contact us and they will be promptly removed. We believe in providing proper attribution to the original author, artist or photographer.
Please Note: Any information published by TravelTriangle in any form of content is not intended to be a substitute for any kind of medical advice, and one must not take any action before consulting a professional medical expert of their own choice.
Frequently Asked Questions On Fiji Vs Maldives
How far is Fiji from Maldives?
The distance between Fiji and Maldives is 11,680 km.
What is Fiji famous for?
Fiji is famous for its subtropical environs, beaches, and many water sports.
What are the best places to see in Fiji?
Some of the best places to visit in Fiji include:
1. Fiji Museum
2. Colo-I-Suva Forest Park
3. Suva Municipal Market
4. Sigatoka Sand Dunes
5. Taveuni Hill Fort
What are the best beaches in the Maldives?
Some of the best beaches in the Maldives are:
1. Hulhumale Beach
2. Bikini Beach
3. Reethi Beach
4. Cocoa Island Beaches
5. Lily Beach
What are some of the water sports to try in the Maldives?
Some of the best water sports in the Maldives are:
1. Flyboarding
2. Kitesurfing
3. Parasailing
4. Kayaking
5. Jet Skiing
People Also Read:
Maldives Vs Seychelles Mauritius Vs Maldives Andaman Vs Lakshadweep